For background
information on
Board Schools
see our
Education pages
The school by the river
Derwenlas is a small community lying close to the River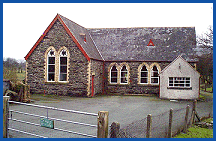 Dovey some two miles downstream from Machynlleth. The closeness of the village school to the river, as shown on the 1902 Ordnance Survey map below, was to be the cause of crisis on many occasions during the 87 year life of the school.
Derwenlas School opened in January 1880 and closed in July 1967. The photograph of the former school building shown here was taken in February 1999. The following pages contain extracts from the school Log Books which include many fascinating insights into the life of a rural community in times past.
Derwenlas was once a busy port for river boats of up to 70 tons on the tidal reach of the River Dovey, with a valuable role in exporting lead, slate, timber and other products of Montgomeryshire. The river traffic increased greatly from about 1830 with the movement of sailing boats by day and night according to the tide.
The coming of the railway in 1864 was to put an end to the commercial life of the port, and many jobs were lost.
There are 19 pages on Derwenlas School. Use the box links below to view the other pages.