The above entry, recorded on 8th June, 1877, reads:
"The fact that in this wild Welsh mountain parish there has not been a single absentee or a single failure at the inspection is very strong evidence that the Master is doing his duty thoroughly well..."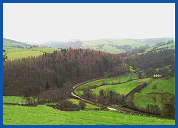 A much later entry in the school log books, from an Inspector's Report in 1932, notes that "It is certainly one of the best schools in this district, and that in spite of the long and hilly roads which the children have to travel to and from the school".
The photograph of the hills around Darowen shown here gives some idea of the nature of the local landscape referred to in the log books over the years.
There are14 pages on Darowen School. Use the box links below to view the other pages.