For more about
the origins of
National Schools
see our general
Education pages.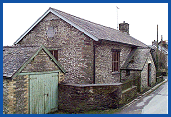 The school in the hills
The little village school at Darowen lies in very hilly country a few miles to the east of the town of Machynlleth in Montgomeryshire. The school closed in 1971, and the building is shown (right) as it appears today.
The 1836 Ordnance Survey map shown below gives some idea of the difficulties many of the children from the surrounding hill farms must have faced in getting to and from school, particularly in winter.
From the
1st Edition
Ordnance Survey
1"-mile map
of 1836
Powys
County Archives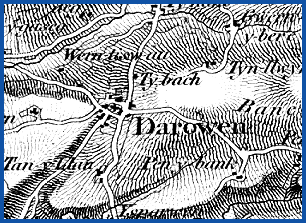 There are many references in the school log books to the nature of the local landscape and to the frequent problems encountered by the children and the teachers caused by the Welsh weather and the exposed position of the school in the hills.