It was much more difficult to take photographs during the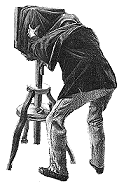 years of Queen Victoria's reign.
The cameras were very large and heavy. The body of the camera was made of wood, usually mahogany, and the fittings and screws were made of brass.
Because the camera was so heavy and it took much longer than today to capture an image, the supports for the camera also had to be very strong to keep everything still while the picture was being taken.
The people who were being photographed had to keep very still too ! That is why many Victorian pictures of groups of children at school have one or two blurred faces because somebody moved before the photographer has finished !
Nobody move !