The old photograph above of the Market Hall was taken after 1897, when the building was first used by the 'Working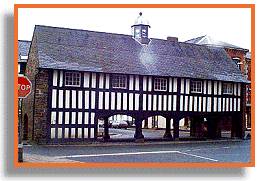 Men's Institute and Library'.
The large door on the upper floor was once used for loading and unloading wool and flannel.
You can also see the stairs leading to the upper floor behind the two men on the left.
The modern picture above shows that both these doors have since been closed off, but the ancient Market Hall still looks much the same.
Back to Llanidloes picture menu