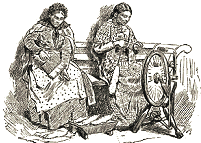 These were a little like the Yellow Pages of today (but without the telephone numbers !). They listed all the important property owners and tradesmen in the area and gave information about services such as the coaches and carriers and schools.
They are a very useful source for finding what an area was like in Victorian times. Select from the list below.
Pigot's Directory of South Wales 1835


The gentry of the Hay area


The professions in the area


The tradesmen: bakers to booksellers


The tradesmen: bootmakers to butchers


The tradesmen: carpenters to curriers


The tradesmen: flannel to hairdressers


The tradesmen: ironmongers to saddlers


The tradesmen: skinners to tanners


The tradesmen: turners to miscellaneous


The inns and taverns of the area
.