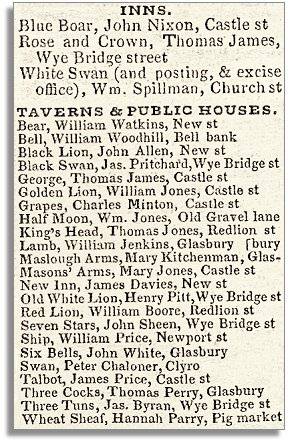 In the days before the great Victorian railway network was built people had to travel around by coach or on horseback.
As journeys took a lot longer this meant that travellers needed somewhere to stay overnight. All across Britain there were a great number of inns which gave people food and accommodation.
Pigot's Directory of South Wales lists the inns and their landlords in the Hay area in the early years of Queen Victoria's reign. The inns which put up travellers by stage coach (like the White Swan listed here) needed to employ a lot of local people to run them.
Servants were needed to clean the rooms and look after the guests. There would be boot boys to clean the travellers' boots and shoes, and grooms to look after the horses. A cook and her assistants would be busy in the kitchen cooking for the guests. From this you can see that the inns of the area would be an important source of employment
for local people in Victorian times.