Don't forget! The surnames are first.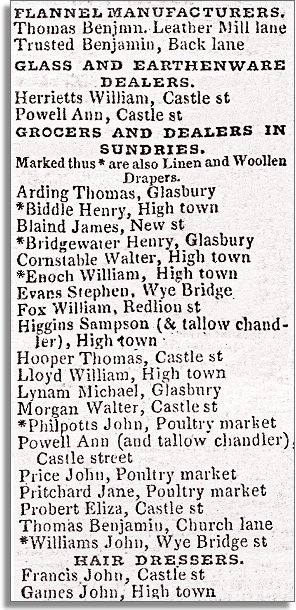 Almost every community in Mid Wales in Victorian times had flannel manufacturers listed in the trade directories.
With so many sheep on the hills there was a ready supply of wool and plenty of hill streams for washing it.
Montgomeryshire was the main centre for the industry, but there were weavers with looms working away in Hay, as you can see here.
Notice among all the grocers, two grocers who are also tallow chandlers or dealers in tallow.
Tallow is an animal fat or grease from which you could make candles and soap. Tallow candles were smelly but cheap. Most poor families simply went to bed when it got dark, but if they needed some light would use rush lights or tallow candles.

It is unlikely that many ordinary working people could afford to visit a hairdresser.
They would simply borrow some scissors and do the best they could themselves.
Ladies hairstyles for the better off were quite complicated and changed as fashions came and went.