The early photograph above of the Cambrian Factory, which then employed about 250 workers, was taken around 1885. This view is of particular interest in showing the long strips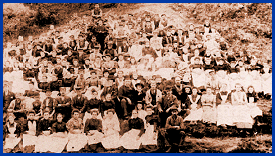 of finished flannel stretched out to dry on 'tenters' on the slopes behind the factory. (This practice was the origin of the term 'on tenterhooks'). The large pipe on the right was to carry smoke over the river away from the exposed flannel.
The Cambrian Factory was almost completely destroyed in a disastrous fire on 30th November,1889, the result of which is shown on the following page. The picture above is of some of the workers and their employers arranged on the terraced rackfield behind the rebuilt factory for a photograph around 1897.
There are 11 pages on the flannel industry. Use the box links below to view the other pages.