British School
Log Books
Powys
County Archives
R/E/PS/42/L1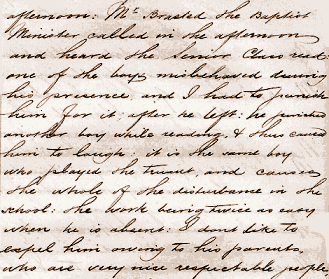 "Admitted five more boys to the school
today: Forty two present in the afternoon: Mr Brasted the Baptist Minister called in the afternoon and heard the Senior Class read: one of the boys misbehaved during his presence and I had to punish him for it after he left: he pinched another boy while reading, & thus caused him to laugh: it is the same boy who played the truant, and causes the whole of the disturbance in the school: the work being twice as easy when he is absent: I don't like to expel him owing to his parents, who are very nice respectable people, & desire me always to do justice to the boy."
There are 6 main pages on the British School. Use the box links below to view the other pages.