There were tracks at the bottom of the valleys, and others cut into the sides at different levels as the dams got higher.
The trains even delivered wagon loads of building material along the steep sides of the dams ! The picture above shows a train steaming towards the wall of Caban-coch dam.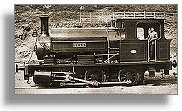 They used trackways like this fixed to all the dams, supported by a wooden framework high above the bottom of the valley. This arrangement looks very dangerous, but it seems to have worked !
If you visit the dams today, you can see the stone pegs sticking out from the dam walls which were used to support the wooden posts.
Some of the construction workers and their families lived in temporary huts several miles higher up the valley from the village. Because of the distance to travel some of these children were taken by train to the school and back every day. For some reason these children were always happy to go to school !
More about the dam builder's railway...