The workers village could only be reached by crossing a bridge over the River Elan. This made it much easier to keep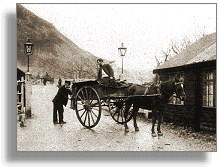 unwanted people out, and a 'bridge keeper' was employed to guard the bridge day and night.
His job was to check everyone crossing the bridge, and to inspect the loads of any horse-drawn vehicles. The authorities were very strict on alcoholic drink in the village, and this could only be bought under the firm rules of the official canteen.
Got any drink in there ?