At the beginning of Queen Victoria's reign the majority of people in this area were involved in working on the land in some way. There were farmers,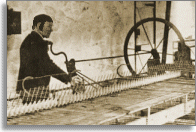 farm workers and farm servants, shepherds and weavers.
There were also water powered wool mills weaving flannel from the sheep's fleeces, and a small number of mines in remote places digging lead and other minerals from the hills.
With the coming of the railway, Llanwrtyd Wells and Llangamarch Wells developed as spas creating work for local people.
Choose from the menu below to see some of the ways local people earned a living in Victorian times.