The children of the poor did not go to school at all in the early years of Queen Victoria's reign. They went out to work as soon as they were old enough to help bring in money to feed the family.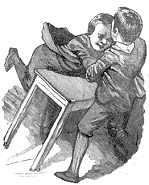 The children of the wealthier landowners and businessmen were taught at home or sent to local private schools.
By the end of the Victorian age free schools had been set up and all children had to go to school.
Find out more about some local schools from the menu below...
Don't laugh at my
knickerbockers !