The picture shows from the magic lantern like the one seen here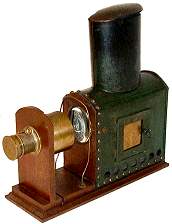 would have been a special treat for children in school. This entry from the Llanidloes National School diary of 1894 reads:
"Magic Lantern Entertainment given to children on Friday evening - 'British Empire'. Scripture prizes were distributed by Vicar".
This show was of pictures of the 'British Empire' of the time, and probably included scenes of life in India, South Africa and other lands which were once ruled by Queen Victoria.
Back to Llanidloes schools menu
That's not magic !
Television is magic !