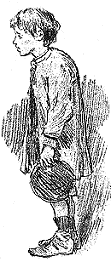 This entry from Llangurig Board School says:
"...On Tuesday I punished D.C.Bound and Walsham Rowbotham for throwing stones during playtime in the afternoon. It is only a very short time ago that John Rowlands hit the attendance officer on the head with a stone. He was so much stunned by the blow that for some time he was unconscious. This did not occur during school hours".
It was the job of the attendance officer to make sure that all the children turned up at school, so he was a likely target for stone throwers !
There is another example of bad behaviour - and tough punishment - on the next page...
A flogging for young William Blythe...
It wasn't me that knocked
him out. My stone missed.