The impressive looking tower on the right was the baths and pump house belonging to the hotel. Although the Pump House Hotel has now gone, most of the attractive old pump house still remains.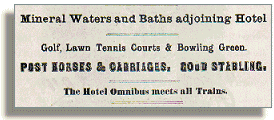 The wooden structure on the left of the picture was a small bandstand, used to entertain visitors on the lawns in front of the hotel.
There is a photograph of the original hotel in the 'old pictures' section of this website. The headquarters of Powys County Council now stand on the site.
Back to 'taking the waters' menu