Pen-y-Gareg dam
nearing completion
in 1904
Powys
County Archives
R/D/CL/1/65
The middle dam
Excavation work on the foundations for the dam at Pen-y-Gareg began in April 1895, when the construction railway reached the site. Work on the masonry of the dam itself started at the end of the following year.
Although there are actually four dams in the valley of the Elan River (see map), Pen-y-Gareg is often regarded as the 'middle dam' in the series.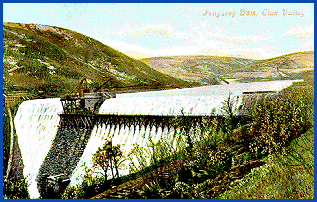 The viaduct at Careg-Ddu lies further downstream, but it does not resemble the other dams since the dam part of the structure is not visible above the surface in normal conditions. The view shown here is looking towards the site of the top dam of Craig Goch.
This hand-coloured souvenir postcard records a late stage in the building of Pen-y-Gareg dam. Work is still continuing on the 'Birmingham Baroque' valve tower in the middle as water spills over the edge from the newly created Pen-y-Gareg reservoir.
The railway track visible in the foreground continued on along the side of the reservoir to the Craig Goch site higher up in the Elan Valley, which was the 'terminus' for the Elan Valley railway.
The completed dam
photographed
in 1908
(far right)
Powys
County Archives
The timber gantry along the wall of the dam was to support a cantilevered railway track being used here to carry materials in wagons to the cranes operating at the centre of the structure. This arrangement, used in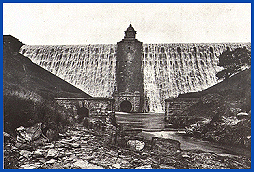 the construction of all the dams, looks particularly hazardous with a powerful flow of water between the face of the dam and the railway line. This trackway is also shown from another angle (and in dryer conditions!) on one of the pages on the railway network.
The engineer in charge of the work on Pen-y-Gareg dam was Eustace Tickell, who is remembered for his many drawings of the valleys as they were before the building of the dams. He is pictured on the site of 'his' dam on the page about him on this website.
Pen-y-Gareg dam
pictured in 1999
The recent photograph below shows the completed tower on the top of the dam, and also the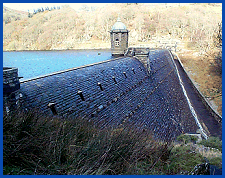 masonry pegs jutting out from the face of the dam wall which were originally used to support the timbers carrying the railtrack referred to above.
This dam is unusual in that it houses an access tunnel to the central tower which is lit by apertures in the downstream side of the dam. These are visible in the colour photograph as the row of projections nearest the top of the dam. When the Pen-y-Gareg reservoir is full the water spills over the edge as a curtain of water beyond these open 'windows'. This effect is visible in the 1908 photograph (above right), taken from the river bed below the recently completed dam.