Craig Goch dam
from the air,
pictured in 1972
Powys
County Archives
The top dam
The dam at Craig Goch, the highest upstream of the series of dams in the Elan Valley, is often referred to as the 'top dam'. It is located at a height of 1040 feet (317m) above sea level. As with all the dams, work started with the arrival of the railway line at the site. In the case of the top dam the line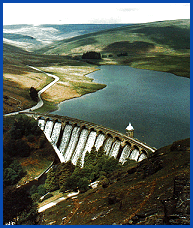 had farthest to go and a rocky outcrop had to be blasted and dug through on the route to the site. Work on excavating the foundations for a secure base for the structure started in July 1897, some three years after the start of work on the lowest dam at Caban Coch.
Craig Goch is seen by many as the most attractive of the dams, with an elegantly curved retaining wall and a series of arches carrying a narrow roadway across the top of the dam. It has a domed valve tower and the structure is typical of the 'Birmingham Baroque' style of much of the waterworks scheme.
Cross section drawing
is from 'The Future Water
Supply of Birmingham'
by Thomas Barclay,
published in 1898.
(Powys County Archives).
The location of
the Elan Valley dams
and reservoirs
is shown on the
sketch map.

Part of James Mansergh's design proposals, dated July 1892, for the Elan Valley scheme are shown here. The Craig Goch top dam is on the right and the lowest dam at Caban Coch is on the left. The cross-section also illustrates the way in which the water above the level of the submerged dam (near the centre of the reservoir at left) in Caban Coch reservoir can be used as part of the supply for Birmingham drawn off at the Foel Tower just upstream of the submerged dam. Water below that level can only be used as compensation water to maintain the normal river flow downstream to the rivers Elan and Wye.