Joseph Chamberlain,
prime mover of
the Elan Valley
Waterworks scheme
Chamberlain and Mansergh
Once the decision was made to proceed with the project, an Act of Parliament was required

to authorise the compulsory purchase of over 70 square miles of the rugged moorland around the two valleys, and the subsequent construction work for the dams, reservoirs and aqueduct. The parliamentary procedure started in February 1892, led by Joseph Chamberlain, an MP and former Mayor of Birmingham who had done much to get rid of the slums and improve social conditions in the city.
There was a great deal of ferocious opposition to the Bill in both Houses of Parliament and also in Wales, but after lengthy battles the Birmingham Corporation Water Act, 1892 received Royal Assent at the end of June in that year.
A souvenir postcard
of Craig-Goch dam,
Elan Valley
By kind permission of
Radnorshire Museum,
Llandrindod Wells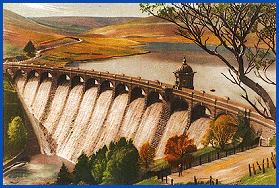 The Water Committee of Birmingham Corporation then appointed James Mansergh of Westminster, London, as the consulting engineer for the ambitious project. He had worked on the design of the Mid Wales Railway in 1862, and was familiar with the region and of its suitability for water storage.
The location of
the Elan Valley dams
and reservoirs
is shown on the
sketch map.
Mansergh had prepared the initial survey report which led to the selection of the Elan Valley as the future source of Birmingham's water supply, and had provided much of the expert evidence which led to the approval of the scheme. Mansergh was a brilliant engineer, and it was a wise choice which resulted in the construction of the impressive and beautiful structures that can be seen today. He wrote of his designs:
"when more than full the water will overflow from all the reservoirs in picturesque cascades down the faces of the dams".
Few who have seen the impressive sight of the dams in full spate would disagree.