Photograph by
kind permission of
Radnorshire Museum,
Llandrindod Wells
The model is of particular interest in that it included the three dams originally proposed for the Claerwen Valley, seen extending to the left. Of these, only the base of the dam at Dol-y-Mynach (bottom right of the model above) was destined to be built. The valley of the River Elan runs vertically on the right of the model, and the reservoirs shown were all created by the scheme.
See the sketch map of the dams and reservoirs today for comparison with the original scheme.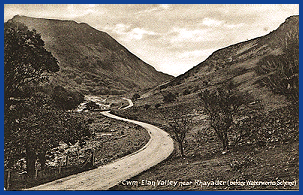 Another view of the Elan Valley taken from an early souvenir postcard is shown (right), with the picture captioned "Before Waterworks Scheme".
Roads like this one which followed the course of the river along the floor of the valley were later replaced by new roads and railway tracks cut into the valley sides above the top water level of the reservoirs, and access roads were also built along the top of two of the new dams.