The railway line
between Caban Coch
and Pen-y-Gareg
dam sites
By kind permission of
Radnorshire Museum,
Llandrindod Wells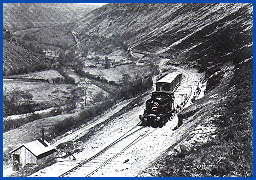 The huge civil engineering project did indeed require large numbers of workmen, and a specially built village to house them.
Before work could start on the construction of the dams, however, it was first necessary to build an extensive private railway network. This was required to transport the massive amounts of building materials and essential supplies needed at many sites, widely spread within the two river valleys. Eight saddletank locomotives were used to move about one thousand tons of building materials every day.
The location of
the Elan Valley dams
and reservoirs
is shown on the
sketch map.
The first stage of the Elan Valley Railway, built between October 1893 and May 1894, was a line to link the site of the lowest of the series of dams, Caban Coch, and the workers village beneath it, with the nearest point of access to the main Cambrian Railways line near Rhayader.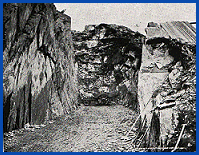 Work progressed on the lines to the more distant dam sites during 1895 and early 1896. Halfway along the trackbed to the topmost dam site at Craig Goch it was necessary to blast a deep cutting (right) through a projecting spur of solid rock. This was a very troublesome task which held up completion of the line by about three months, and the narrow pass was known as "Devil's Gulch" by the navvies who had to cut a way through. This line to the "terminus" at Craig Goch was eventually ready for rail traffic in July 1896.
There are 2 pages on the Elan Valley Railway.