The postcard reproduced above shows such a perilous looking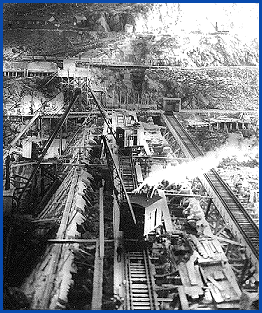 trackway in use in the late stage of construction of the valve tower which tops the dam at Pen-y-Gareg. A similar system can be seen in the photograph of Caban Coch dam under construction (right).
The stone projections can be seen today on the dams when not hidden by water spilling over the tops when the reservoirs are full. They are visible in a recent photograph of Pen-y-Gareg dam on this website.
Some of the former railway trackbeds survive as paths or roadways alongside the reservoirs, including the route through "Devil's Gulch" mentioned on the previous page.
This is the second of two pages on the Elan Valley Railway.