Before the work on the building of the system of dams in the Elan and Claerwen valleys could start, it was necessary to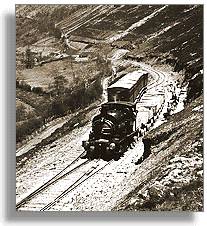 build a large private steam railway system. This was needed to carry the heavy and bulky supplies of stone, cement and timber over the huge area of the two valleys.
The Elan Valley Railway was connected to the main Cambrian Railway network near Rhayader station.
Work on the railway started in October 1893, and as soon as the railway line reached a dam site, then work could begin on the foundations of that particular dam.
The line was extended to the site of the farthest dam at Craig Goch by July 1896. There is a map showing this line on another page.