For a long time after this area was covered by the waters of Caban-coch Reservoir, many people believed that the house was still standing under the water. It would be fascinating to think of a big mansion at the bottom of the lake with fish swimming from room to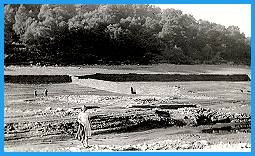 room ! There was even a very popular novel published in 1932 called 'The House Beneath the Water' which was probably based on the story about Nantgwyllt.
In 1937 , when this photograph was taken, the water level in the reservoir had dropped by almost 17 metres (55 feet) below its highest level after a long dry spell. This meant that the site of the old house was no longer covered, and thousands of people came to look at the unusual sight. But it could then be seen that only the garden walls were still standing, and there were only a few stones left to mark the location of the famous house.