In the Elan Valley the second dam 'up-river' after Caban-coch doesn't really look like a dam at all. This is Garreg-ddu, which is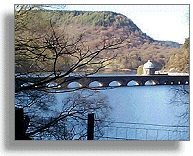 sometimes called the 'submerged dam'.
Garreg-ddu plays a more important part in providing a constant supply of water to Birmingham than you would guess.
The part you can see above the normal water level, as in the photograph shown here, just looks like a narrow road bridge made of stone, with many arches.