The top of the submerged dam of Garreg-ddu can be seen under the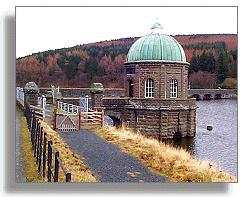 bridge on the right in the picture above. This low dam prevents the water level from falling below the lowest openings in the Foel Tower. The recent photograph on the right shows the more usual water level.
As well as the water collected by the two dams at higher levels in the Elan Valley (Pen-y-garreg and Craig Goch) the Foel Tower takes in water from the Claerwen Valley. This is carried by a pipeline which takes water underground from the dam system in the next valley.