On the western edge of the map we can see a school. The Abbeycwmhir school was built in 1857, and it was a great benefit to local families in the long run. It meant that local children would be given a basic education and so would have more opportunities open to them when they left school.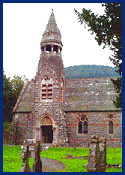 (See the Victorian School Days pages to find out more about local schools)

St. Mary's church is a fine new building erected in 1866. Abbeycwmhir used to be a part of Llanbister parish, but it is now a parish in its own right with a parish church.

The Abbey Hall has itself been rebuilt in 1867 by the same architects who designed the church. This replaced an earlier building which was probably from the 17th century.