Woollen cloth had been woven in the area for hundreds of years before Queen Victoria came to the throne. In Victorian times the industry went through some big changes and these affected the lives of many people across the community.
(Victorian flannel workers in High Street, Llanidloes can be seen in the photograph below)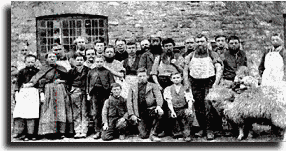 In the early days the finished cloth had to be taken by packhorse or cart to Welshpool to be sold but in 1838 a flannel market was built in Llanidloes and production began to be more industrial.

Choose from the topics below to find out more.