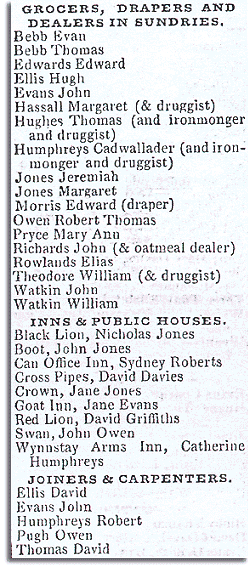 The grocers, drapers and dealers in sundries includes most of the shopkeepers in the town.
A draper was a man or woman who sold cloth. This was important at a time when a great many people made or repaired their own clothes.
Notice too, how many shopkeepers did not stick to one kind of produce but sold many different kinds. Cadwallader Humphreys was a grocer, iron monger and druggist!
Inns were particularly important at a time when travelling was mainly by horse or coach.
Many journeys would take longer than a day and the travellers would need to stay overnight somewhere.
.
Don't forget!
The surnames are first