The owners of many guesthouses claimed in their advertisements that they were near the mineral springs or the railway station. Or, like the one shown to the right of the photograph above,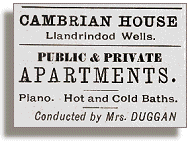 midway between the two ! See another example of using the nearness of the railway station on the next page in this section.
Some of the other features advertised in Victorian times seem less likely to attract holidaymakers these days. How about "Well ventilated rooms" (which means cold and draughty !) or "Piano. Hot and Cold Baths" !
The cold baths were just another part of the very strict routine that many of those who went to 'take the waters' insisted upon. Rather them than me !
Back to 'taking the waters' menu