At this time there were many tradesmen in the parish, including:
3 shoemakers, 3 masons, 6 sawyers, 3 carpenters, 7 wheelwrights, a tailor, a miller, a schoolmaster and a lath cleaver!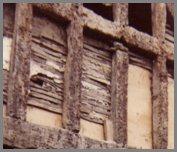 The last was a Thomas Jones and his job was to split wood into long thin, flat pieces. These were used in building timbered cottages. They could be woven across the gaps in a timber frame and then plastered over. This picture of the ruins of the old Three Tuns inn in Hay shows the laths in the frame of the building.
Photograph by kind permission of Mr Eric Pugh.