The main problem with the earliest fire engines was that they had to be pulled along by horses, and the horses were often kept in a field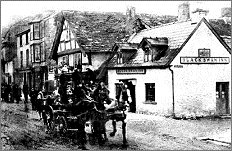 some way away from the firepump.
This meant that they had to chase and catch the horses, take them to the fire engine, harness them up, and then go to the fire - if it hadn't already burned to the ground by that time !
This old photograph shows the Hay fire engine going at full gallop along Broad Street, and passing the Black Swan Inn at the corner of Bridge Street. There is more about the Firefly fire engines of Hay on the next page...