This may have been photographed in September, 1901, when the Hay British Infants School diary said "Owing to a procession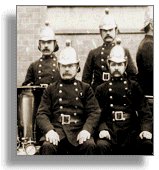 of the Fire Brigade, and the christening of the new fire engine - very few children presented themselves on Thursday afternoon".
Although the smart new fire engine had a steam-driven water pump, the wagon still had to be pulled by horses, and horses still had to be caught and harnessed before the fire engine could go anywhere !
Can you imagine hearing a fire bell and then seeing the fire engine going past behind horses at full gallop !
Life was very different in Victorian times !
The Hay Fire Brigade
got shiny brass helmets
by 1903 !