Nantgwyllt Church,
once attended by
the poet Shelley
By kind permission of
Radnorshire Museum,
Llandrindod Wells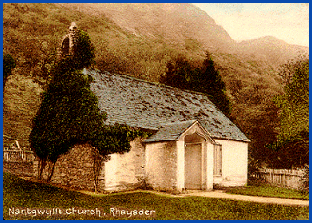 He was said to be "full of fun" and "he loved to sail in the rapid mountain streams a wooden boat about a foot in length, and would run along the bank, using a pole to direct his craft, and keep it from shipwreck on the rocks".
This lady also remembered that he put a rather reluctant cat on board his little boat on one occasion !
The location of
the Elan Valley dams
and reservoirs
is shown on the
sketch map.
Shelley received a letter from Harriet Westbrook while he was at Cwm Elan in August, 1811 which prompted him to rush back to London (presumably not by walking, this time !) to see her. The young couple, aged just 19 and 16, promptly eloped and were married in Edinburgh. They went to Dublin for a while, where Shelley distributed revolutionary pamphlets, then returned in April 1812.
His fondness for Cwm Elan led the couple to a search for a house in Wales, as Harriet wrote in a letter on their return from Ireland:
"Strange as it may appear, we have been all through North Wales to find a house, but not one presented itself..."
There are 4 pages on Shelley in the Elan Valley. Use the box links below to view the other pages.