Percy Bysshe Shelley
(1792-1822)
the great English
lyric poet
An appearance of enchantment
Percy Bysshe Shelley was born in Sussex in August 1792, the son of Mr Timothy Shelley, a lawyer and Member of Parliament who in 1815 became Sir Timothy Shelley, Baronet, so that the poet, had he survived, would have inherited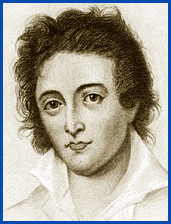 the title and the estate. Despite coming from such a traditional 'Establishment' background, the young Shelley saw himself as a revolutionary reformer. He was an idealist but was wholly unrealistic and impractical in his aims, and was called "mad Shelley" by his schoolmates.
Shelley went to Oxford University in October 1810, when he was engaged to Harriet Grove, a relative of his uncle Thomas Grove, owner of Cwm Elan, one of the large mansions later to be lost with the flooding of the Elan Valley. Their engagement was short lived, however, largely because of Shelley's writings against religious belief, which also resulted in his expulsion from Oxford after only six months.
Cwm Elan estate
c1880's (right)
By kind permission
of Radnorshire Museum
Llandrindod Wells
The future poet, who was yet to produce any notable literary work, then went to London, where he met another Harriet, Harriet Westbrook, the da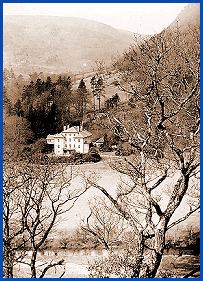 ughter of an inn-keeper. In July 1811, when Shelley was almost 19, he was invited by his uncle to stay at Cwm Elan. He chose to walk to mid-Wales all the way from the family estate in Sussex.
Whilst in Wales he was greatly impressed by the wild and romantic surroundings, as shown in his surviving letters of the time:
"Rocks piled on each other to tremendous heights, rivers formed into cataracts by their projections, and valleys clothed with woods, present an appearance of enchantment."
"This country is highly romantic; here are rocks of uncommon height and picturesque waterfalls. I am more astonished at the grandeur of the scenery than I expected."
"...I am not wholly uninfluenced by its magic on my lonely walks."
There are 4 pages on Shelley in the Elan Valley. Use the box links below to view the other pages.