Nantgwyllt House
as drawn by
Eustace Tickell
in 1893
Powys
County Archives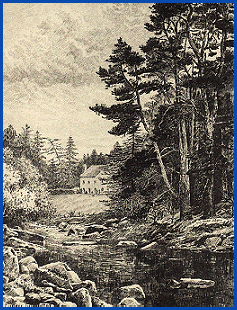 Just a day or two later, Shelley wrote in a letter:
"The house is not yet our own, although we reside here, but will be so in the course of a month. ...This house is large, it will contain seven bedrooms. ...We are now embosomed in the solitude of mountains, woods and rivers - silent, solitary, and old: far from any town; six miles from Rhayader, which is the nearest. A ghost haunts this house, which has frequently been seen by the servants."
On the 25th of April, 1812, he wrote:
"We are not yet completely certain of being able to obtain the house where now we are. The cheapness, beauty, and retirement, make this place in every view desirable. .... mountains and rocks seeming to form a barrier round this quiet valley, which the tumult of the world may never overleap."
In a letter requesting help in securing the property, he wrote that "so eligible an opportunity for settling in a cheap, retired, romantic spot will scarcely occur again".
By the beginning of June, 1812 their hopes of acquiring Nantgwyllt had collapsed, and Shelley wrote on 6th June "Nantgwyllt is not ours, nor will it be". On the following day, his wife Harriet was to write "you may imagine our sorrow at leaving so desirable a spot, where every beauty seems centred...."
There are 4 pages on Shelley in the Elan Valley. Use the box links below to view the other pages.