A sanctimonious memorial
Execution for infanticide was by this date quite rare, and illegitimate births were commonplace and not regarded as a major stigma. These circumstances make the case of Mary Morgan a particularly sad one, and are part of the reason for the attention that the case still attracts.
The tone of Judge Hardinge's address to Mary after he sentenced her to death is repeated in the sanctimonious text of a memorial stone in the churchyard at Presteigne, erected by a friend of the Judge: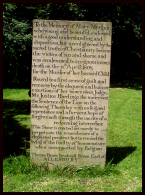 "To the Memory of Mary Morgan, who young and beautiful, endowed with a good understanding and disposition, but unenlightened by the sacred truths of Christianity became the victim of sin and shame and was condemned to an ignominious death on the 11th April 1805, for the Murder of her bastard Child.
Rous'd to a frst sense of guilt and remorse by the eloquent and humane exertions of her benevolent Judge, Mr Justice Hardinge, she underwent the Sentence of the Law on the following Thursday with unfeigned repentance and a furvent hope of forgiveness through the merits of a redeeming intercessor. This stone is erected not merely to perpetuate the remembrance of a departed penitent, but to remind the living of the frailty of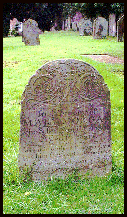 human nature when unsupported by Religion".
The second stone
The tone of the above was clearly too much for whoever it was that erected a second stone nearby, saying simply:
"In Memory of MARY MORGAN who Suffer'd April 13th, 1805. Aged 17 years. He that is without sin among you Let him first cast a stone at her. The 8th Chapr. of John, part of ye 7th vr."