At the age of just 21 Pryce Jones ran this business on his own for a few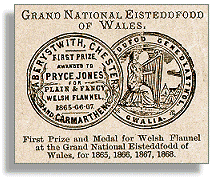 years when his employer was away. After his return Pryce Jones left in 1859 to open his own small shop just off Broad Street in Newtown. It was from here that he first tried out his ideas which were to lead to the promising beginnings of the first mail order business in the world !
He started in a small way by sending out patterns and stock lists to the local gentry, and by arranging for local woollen manufacturers and merchants to supply goods to meet the orders he obtained. This was to be the start of a very large and very successful business, as you can see on the next page...
From Newtown to the wide world...
First Wales, and then
the world !
Grand National
Eisteddfodd of Wales
Medals won in
1865, 1866, 1867
and 1868 as shown in
a mailing list.