The imports included coal, fertilizers, wine, and gunpowder for blasting in the quarries.
A new tramroad was opened in 1859 to carry slate in horsedrawn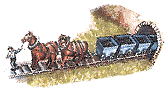 wagons along metal rails from Corris and other quarries to the north of Machynlleth. The route crossed the River Dyfi , passed through Machynlleth and the went westwards to Derwenlas. The tramroad was heavily used until 1864, but lost business to the new steam railway after that date.
Many of the goods carried in and out of Derwenlas were transferred from river boats to larger sea-going ships at Aberdyfi, close to the mouth of the river.
There is more about the only port in Powys on the next page...
The last days of the river port...