The River Dyfi between Aberdyfi and Derwenlas was often a very busy waterway when the tide was up in Victorian times.
One account said that up to eighty boats with their sails up could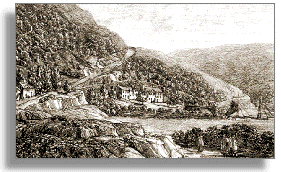 be seen on that stretch of the river at the same time. There could be traffic on the river at Derwenlas by day and by night, depending on the tide.
Derwenlas also had three boat-building yards, and 36 wooden vessels of up to 75 tons were built there from local oak up to 1869. Most of these were used for coastal trade around Britain.
An early engraving
showing sailing boats
on the River Dyfi
at Derwenlas.