Dolecoed House was located close to the Dolecoed Park spring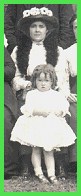 well, which produced almost pure sulphur water. It was the fame of this local well that was a major reason for the rapid growth of the town of Llanwrtyd Wells, soon after the new steam railway services provided easy access to mid-Wales.
A later advertisement for Dolecoed Hotel said that it had "Sulphur Baths within Hotel" and claimed that "The Dolecoed is the Old and Famous Hotel, Established in the 17th Century".
There is more about the remarkable suphur well at Dolecoed Park on another page...
Victorian ladies
on holiday at
Llanwrtyd Wells