The little town of Llanwrtyd Wells was one of the small group of spa towns of mid-Wales which once attracted huge numbers of visitors who came to 'take the waters'.
When the rapidly growing steam railway network opened up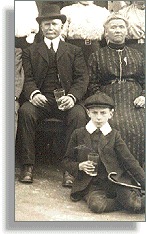 the area to the Victorians, the town became a very busy summer holiday resort. Many families came by train from the industrial towns of the south Wales valleys and from other more distant places. There were stories of groups of miners gathering on the bridge over the River Irfon and forming choirs to singing for the entertainment of other visitors.
The area has beautiful scenery and is fine walking country, and it also provided fishing, golf, bowling, croquet, and other attractions for visitors. But the main reason for the sudden growth of Llanwrtyd Wells from a small village to a town was its mineral springs.
These happy (possibly) visitors to the spa at Llanwrtyd Wells were pictured with their glasses of the Welsh water !