Drawing by
Rob Davies
All schools in country areas were likely to have smaller numbers of children arriving for lessons in bad weather. Many had to walk for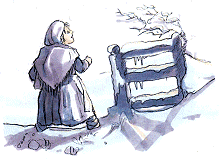 miles from farms and villages, often over very rough ground.
This entry is from the diary of the Infants Department of Llanidloes National School, and it shows that the very youngest children had particular problems in the days before school buses ! It was to be many years after the end of the Victorian age before organised transport to school became available to all children.
This was written in the school Log Book in 1886, when there was still deep snow around in March ...