It was very common in the Victorian years for children to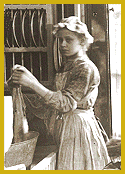 be out working at an early age, because any extra money coming in to poor families was often essential to pay for food and heating.
Young boys would obtain work on the farm or in factories, mills or mines, and girls would 'go into service'.
This meant that they would work for the local gentry in the big houses, or for anyone who employed servants, since they were paid very little.
Many servants had unpleasant jobs to do like cleaning out fireplaces, and often had to start work very early in the morning.