Although Tylwch was fairly remote and isolated, the railway line and the small station supplied a link with the whole Victorian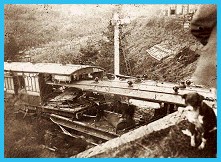 railway network for local people and goods.
The accident there happened on 16th September, 1899. A mail train which had just arrived at the station was hit by an excursion train on the same track.
This train had left Builth early in the morning on a one day outing to Manchester. A young woman aged only 24, who had got on the train at the last station with her boyfriend, was killed in the collision with the mail train.
The 1899 crash seen
from the bridge over
the railway track.
The nameboard from
Tylwch Station is lying
on the bank beyond
the wrecked trains.