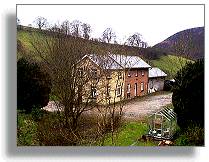 The old railway station building was later turned into a private house. The picture of the former station seen here was taken in 1999.
The news reports of the train crash which were written shortly after the 1899 disaster claimed that the excursion train coming from Builth had gone through a stop signal before it hit the mail train which was waiting at the station.
Trains which don't stop when they should are still in the news today, and sometimes they still have the same tragic results as they did a hundred years ago !