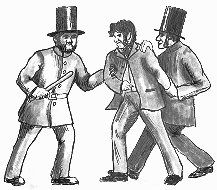 The incident is recorded in PC Jones Journal:
Assisted Const. Owen to take Edward Gorge to the lock up for Assaulting, beating and cu[t]ting his father about 12 o'clock A.M. Edward Gorge the Elder of Chapel house near Llanidloes.
I accompanied Doctor Jones of this town to the Chappell house by the orders of Mr Gorge. Mr Jones, doctor, examined his wound found he was cut on the left side of the head. Rather in a daingerous [dangerous] state.
The two Llanidloes constables had to help each other when dealing with dangerous situations, as they could not radio for backup in 1846 !
a