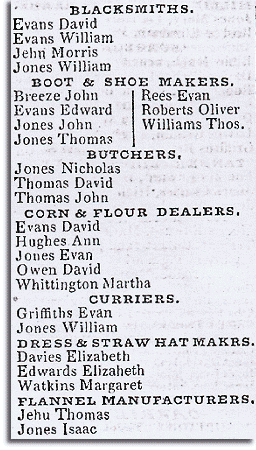 Pigot's Directory, 1835 lists many of the local tradesmen working in the area at the time.
Some of these trades (like the butchers) are still around today, but many have disappeared.
Many of the things we buy in local shops today have been made in factories in another country. In early Victorian times much more of what people needed was produced locally by skilled craftsmen and women.
Boots and shoes were made locally, as was most clothing.
Curriers were involved in preparing skins and producing leather hides from them. In a time before plastics were invented leather was widely used.
Montgomeryshire was an important centre in the production of woollen flannel cloth. The main centres were the towns in the Severn valley (Llanidloes, Newtown and Welshpool) where communications were easier, but there were weaving sheds in Llanfair Caereinion.