The entry above is from Llangyniew National School Log Book in September 1885.
The teacher here decided to declare it a holiday because nobody came to school ! -
"4th - Holiday because of no children come. Sent a complete list of all bad attendants to both Attendance Officers".
This teacher doesn't seem to have been very good at grammar !
The list of names of pupils who were absent more often than the others became known as the 'Bad List'. The entry shown below was written in the same school Log Book, but at the earlier date of December 1882 -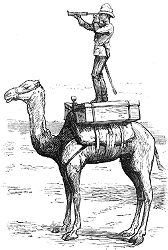 Can't see those
missing kids
anywhere, can you ?